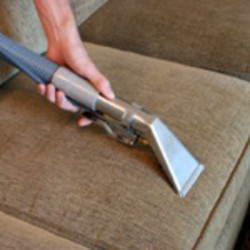 Many home- and business owners, although concerned with maintaining a clean property, frequently overlook the importance of regular furniture and drapery cleaning. Upholstered materials may appear clean to the naked eye, but the truth is that chairs and couches are magnets for various kinds of debris. That's why Discount Water Extraction provides commercial and residential furniture cleaning service: Our goal is to help ensure that your home or commercial space is as deep-down clean as possible. Upholstery cleaning will help make certain your draperies, couches, curtains, and more are thoroughly cleaned for improved appearance, better indoor air quality/health, and even for the increased lifespan of your home or office's textiles and upholstery. If you're looking for a furniture steam cleaning service in Austin, we're the professionals for the job.
Furniture and upholstery cleaning from our experts can bring you and your property many benefits, including:
Decreased odors—Stinky cushions? Musty curtains? Sometimes cleaning upholstered furniture with a vacuum and odor-fighting spray just won't do the trick. If you've noticed that an unpleasant smell has been clinging to your drapes or upholstery, a professional furniture cleaning method such as hot water extraction may be the best solution.
Healthier environment—Cleaning upholstered furniture and curtains can actually help create a healthier atmosphere in your home or commercial space. A lot of the debris that gets trapped in the fibers of your drapes and cushions includes potential allergens and even bacteria. Our upholstery cleaning services are a great way to help keep your family or your employees enjoying the best health.
Improved appearance—If you think your upholstery and curtains look clean now, wait until you see them post-furniture and drapery cleaning! Once-muted colors will pop with a brightness you haven't seen since the day you brought that sofa home or had those draperies installed. You'll be amazed at the dramatic, beautiful difference that professional furniture cleaning can make!
Employing the same level of attention to detail that we use for our carpet cleaning services and property restoration services, the Discount Water Extraction professional furniture cleaning team will remove unwanted gunk that is too tiny or deeply embedded to be removed by simple vacuuming. Some of the materials that can be extracted by our effective furniture and drapery cleaning procedures include:
Dust
Pathogens
Pollen
Dander
Mold spores
After our pros are finished, you'll notice an immediate difference in the items that were treated. In fact, many customers are so impressed by our results that they arrange regular furniture cleaning service to ensure that their living room curtains, office couches, and other soft furnishings are always kept thoroughly and completely clean, right down to the very last cushion.
The furniture cleaning service team at Discount Water Extraction will take special care not to cause any damage to your furniture's wooden parts or fabrics while we work, and we will breathe new life into your textiles without affecting comfort or softness. We are able to perform successful furniture and drapery cleaning on materials of all kinds, including delicate fabrics, and we are even skilled at cleaning microfiber furniture. If you want to achieve a truly clean office or home, contact Discount Water Extraction today. We can educate you further on the benefits of furniture and upholstery cleaning service and provide you with a free estimate. Whether you need furniture and drapery cleaning services for one-time purposes, as part of your disaster recovery effort, or on a regular basis, we will be more than happy to help you.
For a cleaner, more appealing business environment or home, send us an e-mail or give us a call right away! With our competitive pricing and top-notch precision, your satisfaction is guaranteed.