Dealing with fire damage can be distressing, to say the least. If you are in need of fire and water restoration, let the professionals at Discount Water Extraction put our expertise to work for you. We will work diligently to restore your home to its previous condition, alleviating your anxiety as much as possible. 
Fire damage restoration is most effective when performed as soon as possible following the fire to prevent additional damage from water and soot. Discount Water Extraction provides 24-hour emergency services, so if you have experienced fire damage, call us right away! Our fire restoration experts will conduct a thorough evaluation of the damage to your property by taking a visual assessment of the damage's extent and using professional moisture-sensing equipment; for insurance purposes, all of our findings will be thoroughly documented. Based on the results of this evaluation, we will create a customized strategy for fire/water restoration, which we will review with you for your approval. Discount Water Extraction will work to stabilize, sanitize, and restore your property as thoroughly as possible. You can expect us to:
Dry the structure via water extraction
Remove soot stains
Sanitize all affected areas
Deodorize all affected materials
Eliminate smoke smell from building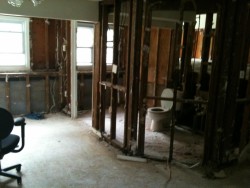 Water extraction, odor neutralization, and mold testing are the three components that often get overlooked during fire restoration services, but that's never the case when we're on the job. Large volumes of water used to extinguish the fire can often lead to serious mold issues, so we use our experience and skill to conduct comprehensive testing for mold and other contaminants. Your one-stop resource for mold testing, fire restoration, and so much more, Discount Water Extraction is available to take the hassle and stress out of the fire's aftermath. Plus, for your convenience, we're happy to work with your insurance company! You won't have to worry about the paper work, and we'll bill the company directly. At Discount Water Extraction, we never cut corners, regardless of how low our prices may seem. 
Few things are as devastating to your home and family as a fire. However, despite the overwhelming damage and emotional toll, a structure fire does not have to necessarily equal a total loss. With the help of the professional fire restoration team at Discount Water Extraction, you can slowly but surely overcome the setback of a fire disaster. Our fire damage restoration specialists will help you to minimize your losses and revitalize your home by providing expert fire/water restoration services. 
For more information about fire and water restoration in Austin and beyond, contact us today.