Carpets and rugs add comfort and style to your home or office, but the downside is that they get worn out and damaged over time. Heavy traffic and other daily abuse can take its toll on even the most durable carpeting material and affect the overall appearance of your entire property. But here's the good news: You can keep your house or place of business looking sharp with professional rug cleaning and carpet cleaning services from Discount Water Extraction! Our skilled floor cleaning pros can breathe new life into even the most tired-looking carpet.
Discount Water Extraction provides carpet cleaning services for businesses and residential properties of all sizes, and we are available for both one-time and routine visits. Our work is thorough—we cover every square inch of carpet from the surface right down to its deeper layers. We leave no nook or corner untouched, and our home and commercial carpet cleaning teams always work with respect for your property, so you never have to worry about scuffs or other damages to your walls. All of these precautions, combined with our willingness to work within each customer's unique specifications, make Discount Water Extraction one of the the best carpet cleaning providers in the region.
Whether you use our carpet and rug cleaning services as part of your water damage restoration or you just want to get a long-lasting clean for your space, you will:
Support a healthy environment indoors—Your building can't be considered healthy if the surface that your guests and employees are walking on is releasing a cloud of allergy-inducing particles with each footstep. Carpet steam cleaning and other methods remove bacteria, allergens, and more from your carpeting, reducing the chance of illnesses.
Extend the life of your carpet—Like any household feature, your rugs and carpeting require basic maintenance if you plan to use them over a long period of time. Regular, professional carpet cleaning service removes the foreign particles from your carpet fibers, discouraging stains and wear to promote longevity.
Improve your overall aesthetics—Stains and muted colors just aren't becoming. Take control of your home's or office's appearance and promote an attractive environment by investing in expert carpet cleaning. You'll be amazed at how great your carpets can look.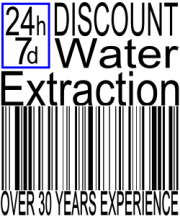 Countless businesses and homes throughout the greater Austin area depend on our floor cleaning expertise to remove everything from obvious mud stains to accumulated gunk like dust, germs, and pollen. With a variety of carpet cleaning methods available, our professionals can help match your carpeting with the most effective technique to make sure your floors get the deep-down clean they need. From carpet steam cleaning to stain spot cleaning and more, the specialists from Discount Water Extraction can pull up dirt and other debris that are too small or too ingrained to be dislodged by a standard vacuum cleaner. Once these impurities are gone, the result is fresh-looking, clean-smelling carpeting that looks practically as good as the day it was installed.
Discount Water Extraction has more than 25 years of combined experience with residential and commercial carpet cleaning. If you have a carpet or rug in desperate need of attention or wish to prevent premature carpet deterioration, contact us today via phone or e-mail. After just one carpet cleaning, you'll notice a marked difference in your carpet's appearance, and the other benefits will be readily apparent as well. Our carpet cleaning business concentrates on providing the Austin area with competitive pricing, top-quality workmanship, and terrific customer service, so you can trust that we'll take great care of you as well as your carpeting. Inquire today to learn more about rug and carpet steam cleaning and how our team can help you maintain beautiful carpets for your home or business without breaking the bank.
Remember: Our professional carpet cleaning services are a great match for any disaster recovery effort!