Main Content
Discount Water Extraction

Free Estimates!

Call today to receive a FREE estimate on services!
Affordable Disaster Recovery Service
Mold Testing and Removal
Free Estimates
Licensed and Insured
Discount Water Extraction is a locally operated disaster recovery company in Austin, serving homes, businesses, and commercial properties alike. Whether you're the recent victim of a natural disaster and need urgent water damage restoration, or you're a real estate agent who needs professional mold testing before selling a property, you can count on our skilled team of specialists for the fast, affordable services you need. At Discount Water Extraction, we're proud to offer some of the best prices for fire restoration, flood restoration, mold removal, and more. We even offer carpet cleaning and upholstery cleaning as standalone services or as part of a larger disaster recovery project. Whatever you need, you can count on our team to bring you the efficient results you need while saving you a great deal of money in the process. Call now to receive your free estimate!
Located right here in Austin, Texas, Discount Water Extraction is the area's answer for water damage restoration at an affordable price. With over 25 years of experience in the trade, we provide local homes and businesses with exceptional disaster recovery services designed to restore the condition of any damaged property. From comprehensive mold removal to fire damage restoration to professional carpet cleaning, our services will make your property as clean and hygienic as possible. Best of all, we perform all of our services at budget-friendly rate.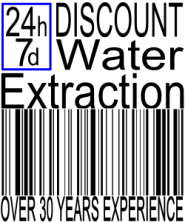 Our disaster recovery services are available to customers throughout the Austin area, including Cedar Park, Georgetown, Kyle, Pflugerville, Round Rock, and San Marcos. Whether you need mold removal, water damage restoration, or upholstery cleaning, you can rest assured that we'll have your property in tip-top shape in no time flat. Get in touch with Discount Water Extraction today to get started! We offer free estimates for all of our services, so why wait? 
For your complete confidence and protection, Discount Water Extraction is fully licensed and insured. Additionally we have the Institute of Inspection Cleaning and Restoration Certification (IICRC) and are accredited by the Better Business Bureau. We handle all insurance paperwork and offer 24-hour emergency services, so act now!